A Trail of Two Waynesboros
Hikers of the Appalachian Trail may be surprised to find Waynesboro on their map twice—once in Virginia and once in Pennsylvania. Both are designated Appalachian Trail Communities (Waynesboro, PA shares its ATC designation with Washington Township and together they go by "Greater Waynesboro Area, PA"). Hikers visiting both locales can expect a warm welcome when they stop to resupply, and visitors taking a faster mode of transportation will be equally charmed by the small-town culture.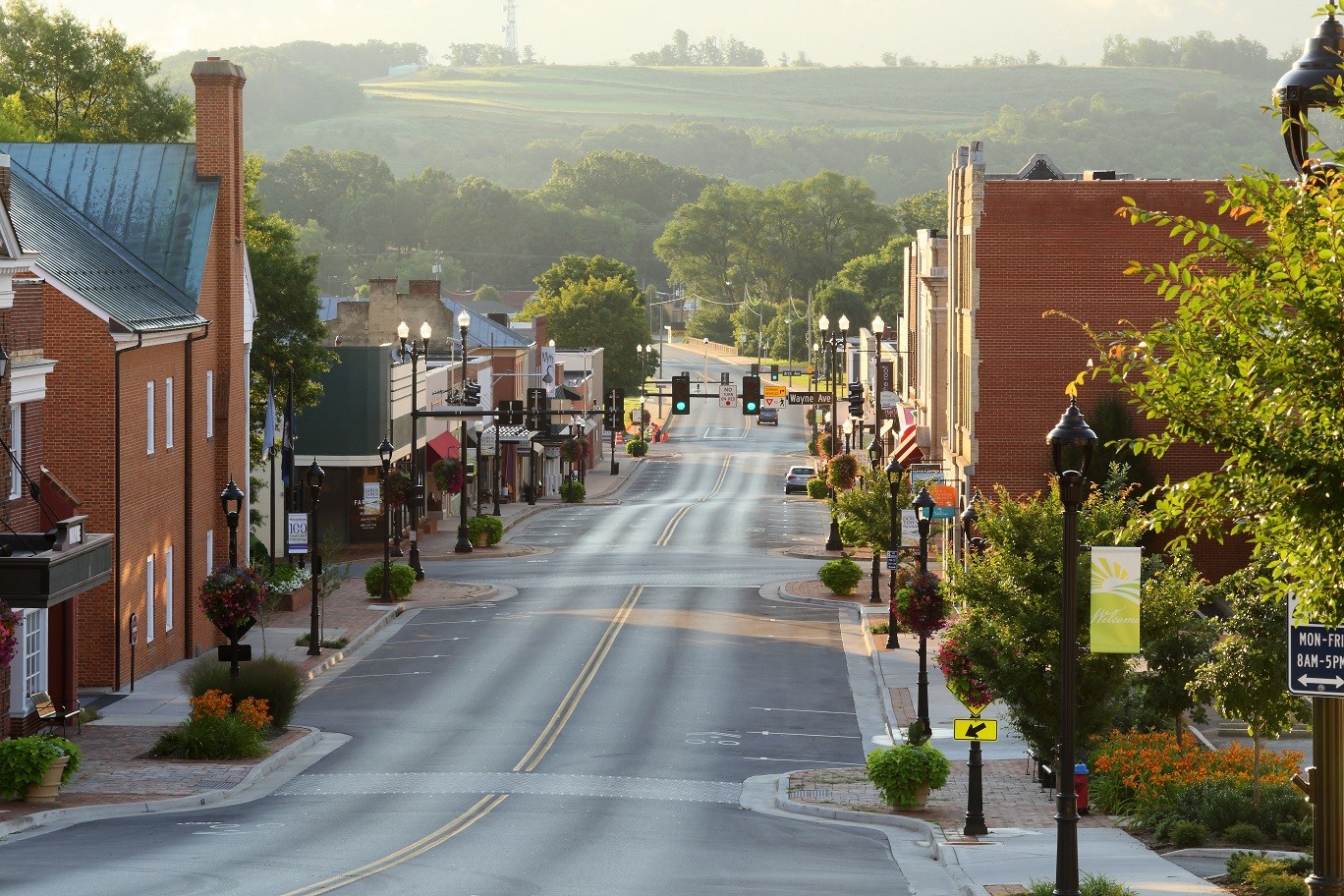 Main Street in Downtown Waynesboro, VA.
Town Trivia

Both Waynesboros were named after General "Mad" Anthony Wayne, hero of the Revolutionary War and native of Pennsylvania. Apparently, many other cities in PA carried the name Waynesboro, too, until 1831 when the federal government declared that the names of post offices within a single state could not be duplicated.

Waynesboro, PA, just north of the Mason-Dixon Line, was under Confederate rule for 15 days in 1863 when Rebel troops camped there en route to Gettysburg.

Both Waynesboros have been shaped by textiles and manufacturing. Waynesboro, VA was once home to General Electric, DuPont (Lycra/Spandex was invented here), and Wayn-Tex (now Mowhawk), while Waynesboro, PA claims the Frick Company, Geiser Manufacturing, Waynesboro Knitting Mill, Landis Machine Company, and Landis Tool Company.

Good Ol' Mad Anthony
With a nod to their common namesake, both Waynesboros host a Mad Anthony run.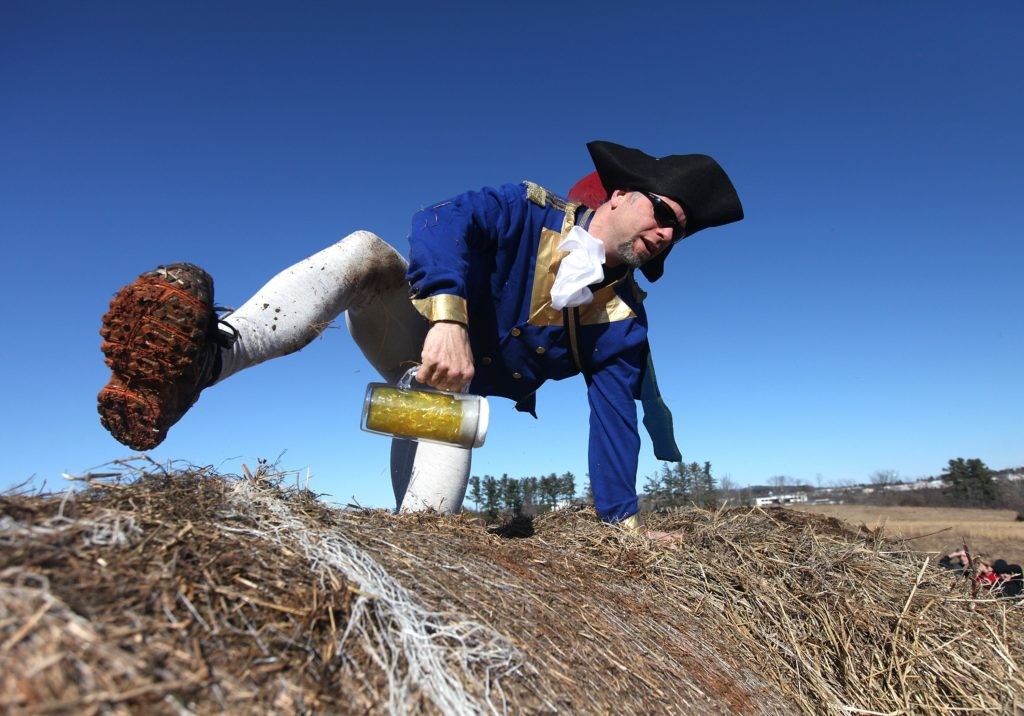 The general takes a leap over one of the obstacles at Waynesboro, VA's Mad Anthony Mud Run.
Mad Anthony's Run Thru the Park 10K (PA): May 16, 2020—The run hits historic downtown and the local parks and coincides with the Brewmaster Beer Festival, which showcases live music and over 30 beers from 20 breweries.
Mad Anthony Mud Run (VA): February 29, 2020—This more rugged foot challenge features obstacles named after famous skirmishes in General Wayne's past. You'll face mud and possibly even snow at this popular event that kicks off the Run the Valley race series.

For the Hiker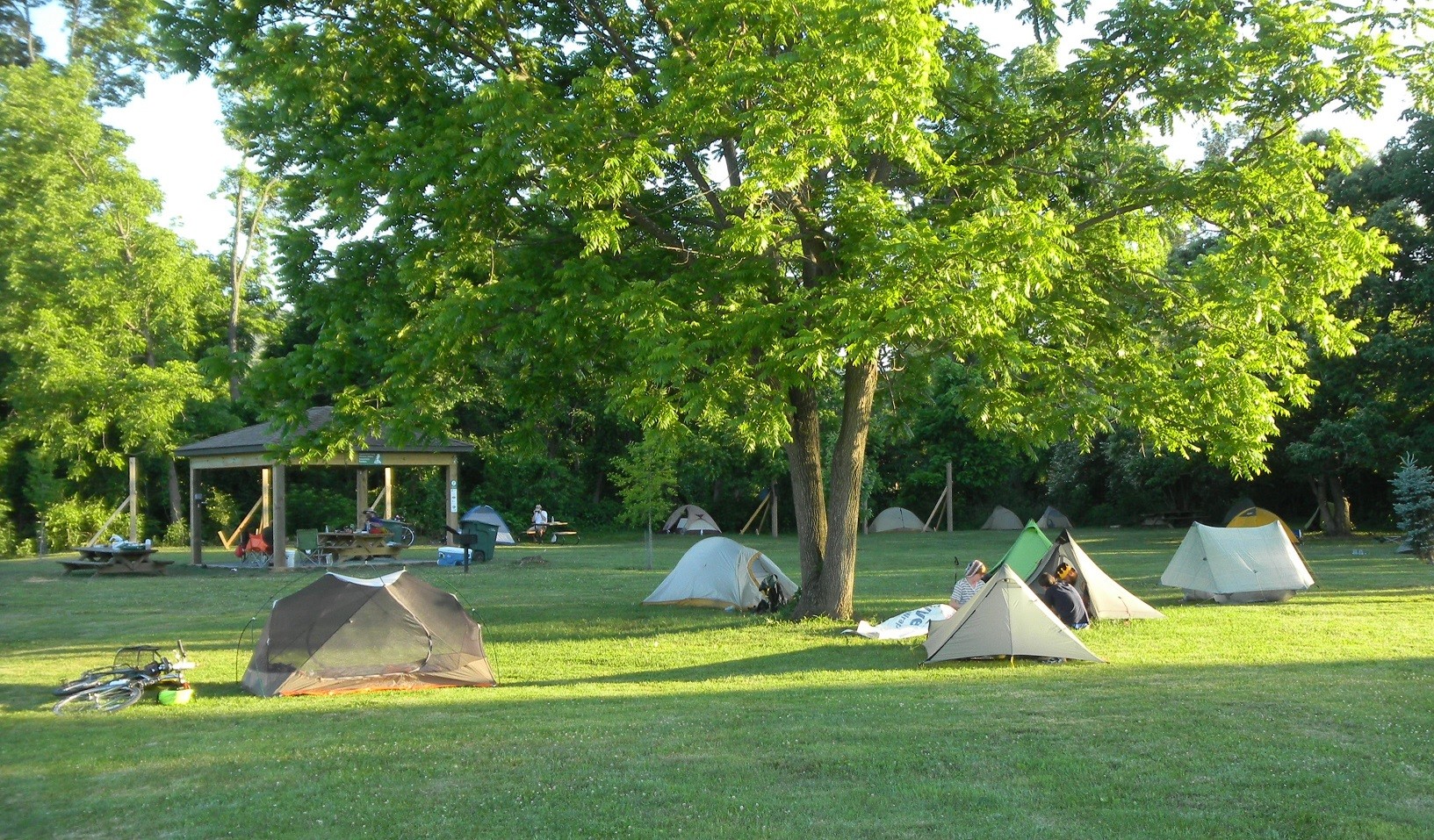 Hikers are welcome at both Waynesboros! Pictured: hiker campground in Waynesboro, VA.
Waynesboro, VA goes the extra mile for hikers with two hiker hostels, a thru-hiker campground, amenities like a shoe repair service and post office, free showers at the local YMCA, a strong network of shuttle drivers, and several all-you-can-eat restaurants to satiate a hiker's enormous appetite. Rockfish Gap Outfitters will supply hikers with anything they need on the trail, while nearby craft-beverage experts, Blue Ridge Bucha and Basic City Beer Co. will quench their thirst. Within an easy walk of the hiker campground and the two hostels, downtown Waynesboro offers casual dining and locally roasted coffee.
Greater Waynesboro Area, PA boasts six access points to the A.T. within Washington Township alone! The closest post office, Blue Ridge Summit, offers a "Hiker Supply Box" courtesy of a local Girl Scout troop who keeps it stocked with a variety of snacks, toiletries, and even duct tape. Burgundy Lane B&B's proprietors cater to hikers, offering shuttle service as well as warm and personalized hospitality. Bring an appetite to Waynesburger, for a delicious handcrafted burger, and finish off your meal with one of over 50 milkshake options. For a special treat to take home, stop at Zoe's Chocolate Co., whose handcrafted chocolates appeared at the 2013 Oscars and the 2011 Emmy Awards. During the summer, al fresco music fills the air on Fridays and Saturdays.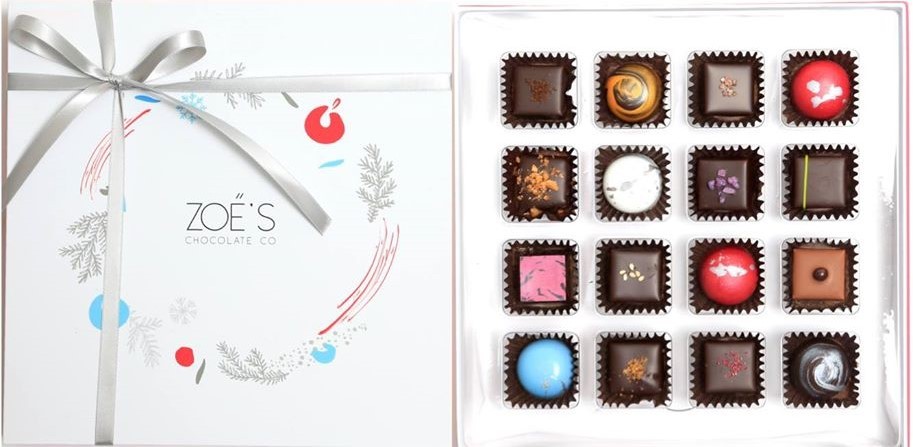 Nationally acclaimed Zoe's Chocolates concocts truly unique chocolates, many using local ingredients. Photo from Zoe's Chocolates' Facebook.
Signature Events
A.T. hikers may want to time their arrival in town to catch one of these Waynesboro events:
Waynesboro, VA
Groovin' at the Greenway. Waynesboro's idyllic Greenway Trail comes alive with music Thursday evenings in June. The Greenway Trail conveniently abuts the city's thru-hiker campground and follows the contours of the South River.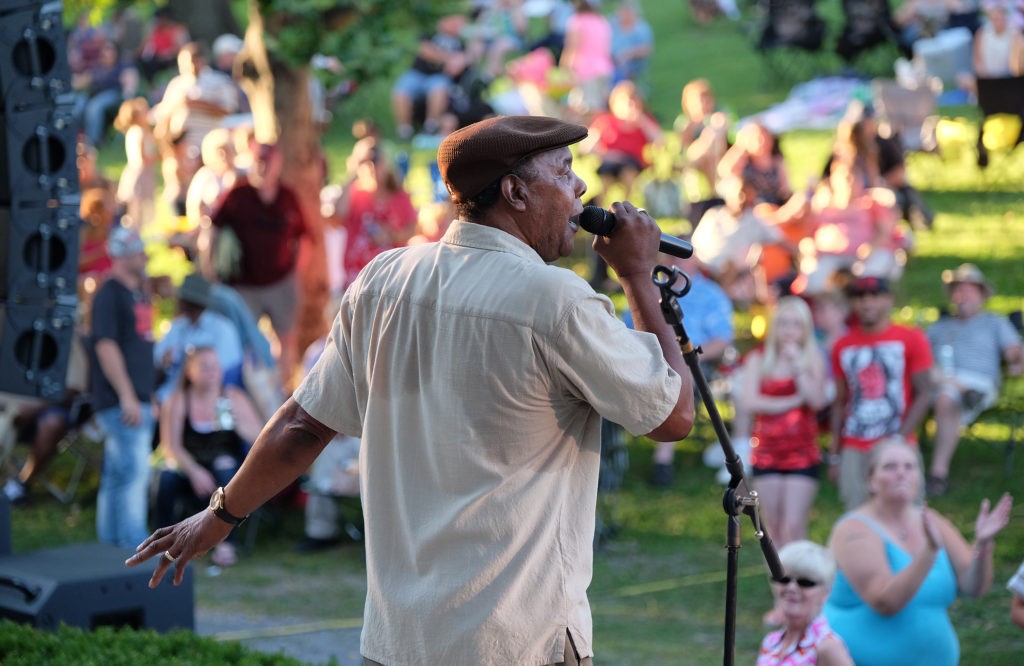 Waynesboro's Summer Extravaganza. (Photo by Norm Shafer)
Summer Extravaganza. A longtime summer tradition, the Extravaganza features live music at Ridgeview Park amphitheater, carnival rides, midway games, food trucks, and crafts for sale. The day is capped off by a spectacular fireworks display over the South River.
Fall Foliage Art Show. The Fall Foliage Art Show will be celebrating its 50th year in 2020. The Show transforms downtown Waynesboro into an outdoor fine-art festival for the weekend, and for the past 5 years, has teamed up with the Virginia Street Arts Festival for world-class public art displays, as well. Art aficionados will also enjoy gourmet food trucks, craft beer, and lively local music.
Greater Waynesboro Area, PA
Father's Day Weekend Car and Truck Show (June 20, 2020). Downtown comes alive with shiny cars and trucks of all makes and models. Food, music, and pop-up shops make it a full day of fun.
Market Day (October 3, 2020). Crisp fall weather marks Main Street's annual Market Day, always on the first Saturday in October. The event features all-day entertainment, including live music, dancing demonstrations, sidewalk sales, children's activities and dozens of craft, specialty and food vendors. Entries in the annual Scarecrow Contest are displayed along Main Street lamp posts.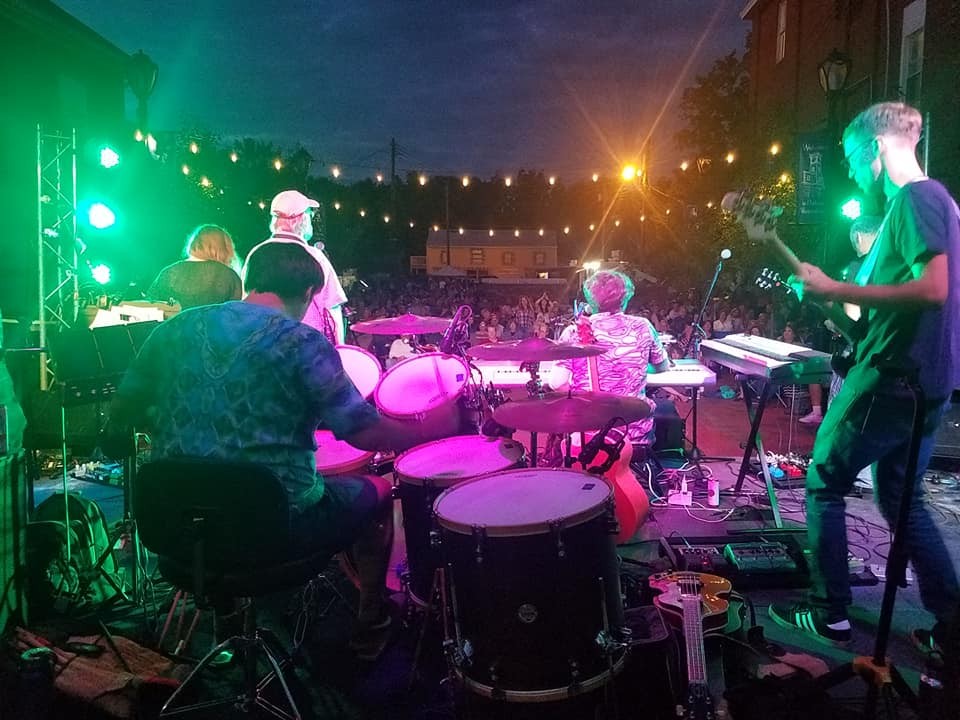 Live music in Downtown Waynesboro, PA, from Mainstreet Waynesboro, Inc.'s Facebook.

Art at Its Heart
If art is your scene, you'll want to visit both Waynesboros.
Waynesboro, VA
Catch top-notch music, drama, arts education at the Wayne Theatre. Built in 1926 as a vaudeville theater, the Wayne has long been a recognizable fixture of downtown Waynesboro. Fully restored in 2016 into the state-of-the-art Ross Performing Arts Center at The Wayne Theatre, the facility hosts local, regional, and nationally acclaimed music and drama acts and educational programming.
The Wayne Theatre. (Photo by Kevin Blackburn/kevinblackburn.com)
You'll also find the renowned art of the one and only P. Buckley Moss, whose gallery is conveniently located in the heart of historic downtown Waynesboro on West Main Street. The gallery maintains the most extensive collection of Moss's artwork, as well as the complete selection of her ornaments and other collectibles. While you're downtown head over to South Wayne Avenue to the Shenandoah Valley Art Center, a non-profit community art center featuring galleries, a gift shop, artist studios, classes, and engaging visual arts programs.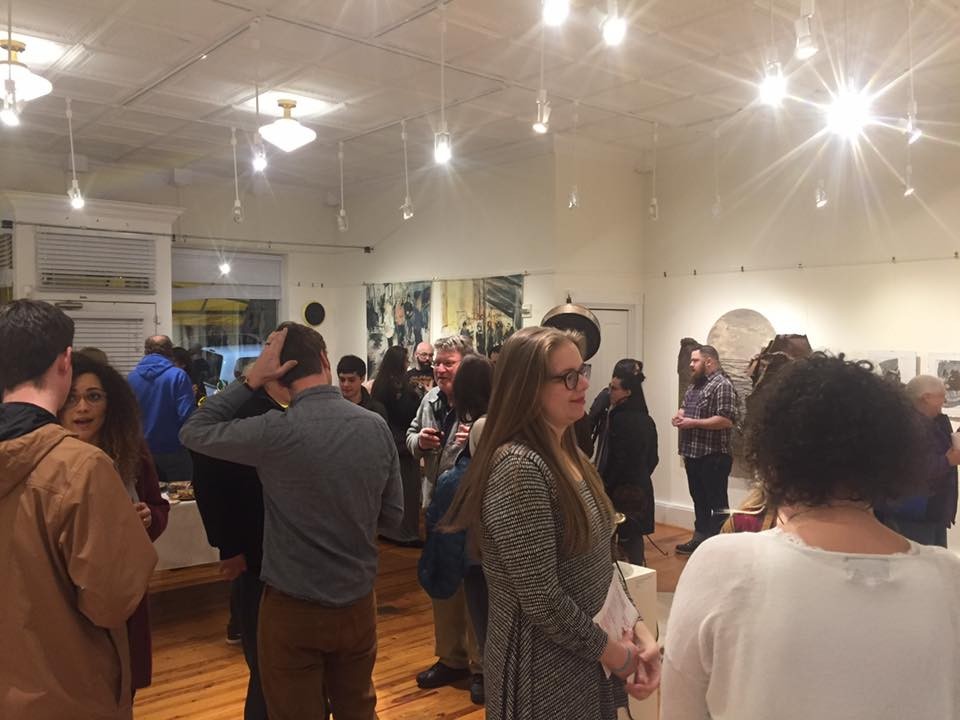 Bustling art exhibit opening at Shenandoah Valley Art Center in Waynesboro, VA.
Greater Waynesboro Area, PA
Formed with the conviction that a strong arts community is vital to a city's health and growth, Destination Arts began when a group of visionary volunteers began turning vacant commercial buildings into curated art galleries. Thanks to those efforts, there are now five permanent art galleries in downtown Waynesboro. These provide free musical performances, artistic demonstrations, and educational workshops, in addition to a broad selection of hand-crafted items for purchase.
North or South of the Mason-Dixon Line, Waynesboro welcomes outdoor enthusiasts eager to experience the local flavor!